Shopping Cart
Your Cart is Empty
There was an error with PayPal
Click here to try again
Thank you for your business!
You should be receiving an order confirmation from Paypal shortly.
Exit Shopping Cart
Social Education for Brain Health
It all came together for me with a new editor. It's funny how I thought that when I finished the book I would be finished with the book. There is always more to do.
I was hoping to be in print by the Asbury Park Cat Convention in April. There's a reason that the tale of a teacher who survives a school shooting and ends up with PTSD would sell well at this cat show. It's the same reason that the book is called, Sideways Boy. Growing up as a pet lover I always thought there were plenty of books showing how great dogs are. This book shows how great cats are, especially my deformed little Sideways Boy.
The tale of how man and cat, both broken by life, help each other heal is a beautiful one that will draw you in. It's amazing when two problems solve each other. 
Thank you to all who read for me. I appreciate you all and all your comments. Happy Holidays to all.
As I type this I still have a hard time believing it is true, but the evidence in front of me is undeniable. The book is nearly finished. If any of my loyal friends here want to be beta readers, there are a few spots open. Email me directly
[email protected]
2016 marks our 5th year in business. Over this time we have helped thousands of people learn how to keep their brains healthy. We are deeply honored to be a part of this revolution in the way we think about our mental health.
In 2015 we spent over 1000 hours doing volunteer work both by ourselves and in partnership with many non-profits. Our work with The Dear Wise Elders Foundation has helped connect older adults with schoolchildren for the enrichment of both groups. This collaboration led to our entry in this year's XQSuperschool challenge.
We have also formed local partnerships with several businesses that has led to our very successful Brain Happy Hours. These "parties for your brain" have allowed many independent older adults to participate in the Purplearn experience. We are very happy to announce that one of these Brain Happy Hours has led to an engagement.
A wise man once said that true happiness lies in finding what you love to do and then doing it. The smiles all through our new Eatontown, NJ office illuminate the truth in this. We love helping further the case for social education.
2016
As we rush headlong into 2016 we at Purplearn and The Dear Wise Elders Foundation would like to pause and give thanks. A very big and grateful thank you to everyone whose lives we touched in 2015. We love you all.
Perhaps the biggest thanks of all go out to the children and especially those children at the New Brunswick Middle School. Some children of immigrants, with nothing themselves, were not stingy with their love and warmth in their cards and letters. To all those kids who gave the beautiful gift of a smile to our older adults, you really are the best.
We'd love to post all the cards, every letter, but that project waits for another day. We at Purplearn are focused on our entry, The Golbal Community Academy, into the xqsuperschool project to change high school. Our proposed school will be built on the foundation of social emotional learning we have been using with great success. We are still seeking partnerships with companies and artists to help fulfill our promise. Come change the world with us and get involved.
We have also enjoyed the progress we have seen in our work with groups of developmentally and or cognitively impaired people and also stroke survivors. The brain continues to fascinate and enchant us as we work to understand even a small part of it. We are grateful to have helped make a difference.
I burst through the double doors back at the top of the stairs. I mean to stop and open the door for what will hopefully be the arrival of a merely late, not absent sub next door to me, but I see a large, dark head in front of the classroom. His stylish goatee, almost regal bearing, and dark blue uniform mark him as a man among the boys even before I can see the actual word, security, stenciled across his back. Ahead of him a group of tightly packed minor trouble makers whisper to each other and walk quickly past me to get out of his line of sight. As if to erase all trace of doubt about who is in charge, he booms out in a deep, manly voice that cuts right through the hallway noise. "Let's go," he says. "Keep moving. Put your things in your lockers and get to class. Put away those hoodies and get going. The bell's about to ring."
His name is Tydell and all the kids have shortened Mr. Tydell into Mr. T. Even with the fairly recent reboot movie, they and he too are all too young to connect that nickname to a certain gold chain wearing, mohawk sporting muscleman, but I chuckle at the irony. "Good morning Mr. E," he says and shakes my hand in a traditional handshake.
I grasp his hand warmly and echo back, "Good morning Mr. T."
Keys jangle, the door opens, and kids are entering the still sub-less English teacher's room as Mr. T is already in fluid motion. The moment he turns the corner, as if they were hiding behind the wall waiting for him to leave, a new group of miscreants comes around the other corner pushing a frail looking sixth grader in front of them. I fold my arms across my chest, make my face impassive, and take one, then two, then three slow measured steps towards them. One of the pack is a wild card, a new transfer student from the DR – we get a lot of these. He is tall with a wild mane of black shiny hair swept up into a fauxhawk making him seem even taller. He sneers as he steps forward in my direction, but I hear a whispered murmur from a familiar face and the words, "karate teacher" and they turn back the way they came leaving the skinny kid they were taunting to me. I sigh at the reference as Karate is one of the few martial arts I have never studied, but I since am built more like Mr. Miyagi from the original Karate Kid than Bruce Lee, I accept the honorific. Besides, it gets the gang moving away from me and my new little friend.
The kid is a sixth grader, a good student who is not in one of my math classes so I don't know his name. He is visibly shaking and making groaning noises that he doesn't seem to be aware of. I put my hand lightly on the kids' shoulder. "Are you ok?" I ask, concerned.
"No," he says with equal parts relief and anger.
I find it in me to laugh gently and pat his shoulder gingerly, removing my hand quickly as he glares at me. "I mean are you hurt? Do you need to go to the nurse?"
Getting it now, he rewards me with a half-smile. "No," he repeats, "I'm fine." But there is something in his eyes that makes me keep talking to him.
"You don't have to take that you know," I say. "Nobody should have to come to school scared. We have rules against bullying. You should talk to one of the guidance counselors. I could come with you if you like."
"No," he says again but he seems to be thinking about it. He starts moving his head back and forth and I can almost hear his inner dialogue as he weighs his desire for revenge against the real or implied threat of being branded a snitch against whatever pseudo-mini-gang those boys belong to. His mouth starts working and then stops and I know what he's going to say before he says it. "No," he says with finality. Then, more warmly, "Thank you Mr. E." I may not know him but it seems he knows me. The bell rings and he hurries off to class, not wanting to be marked tardy.
"That's the bell," I say in my loud, strict teacher voice to the far too many kids who could care less about being marked tardy that are still in the hall. "Go to class." I stop in front of the dark grey door to my homeroom and an image of a huge maw, like a whale comes unbidden to my brain. This place is eating at my soul. I can't even count how many of my former colleagues it has already taken from me and I don't know how long I can hold it off. The door seems cold and forbidding before me like it will swallow me up if I enter, and I will lose myself forever in the deepening quagmire that is our school. It is overwhelming me with so many state tests to grade and prepare for, ever changing lesson plan formats, 504s, IEPs, and more and more until it feels like an ocean of quicksand from which there is no escape.
As I swallow my feelings and step into my room I scan the faces for a trace of a smile to help lift me up, but I do not find it. I feel lost and alone, but I try to mean it as I loudly give voice to what's left of my optimism, say "Good morning" to my homeroom class, and steel myself for the rest of the day.
The variations continue with the kids' footwear. Boys whose shirts look like they haven't been washed in a week sport brand new $300 Jordans, or one of dozens of other sneakers, often in ludicrous color combinations. The girls are mostly wearing brand name boots like Uggs or Frye or some knock off designer thigh high monstrosities. The style for socks this year seems to be that, if they can be seen, they mustn't match any other article of the wearer's clothing. I must confess that even I am caught up in the wild sock trend and I am wearing a pair of brightly colored, tribally patterned knee highs under my stretchy khaki slacks.
A moving mountain of a boy holds out his hand to me as he passes. Almost sixteen years old in the eighth grade, Juan Carlos is a full head taller than me and easily as broad. The thick, still growing muscles of his upper body bulge from beneath an old blue polo shirt at least two sizes too small for him. The bottom of his shirt flaps about six inches from the top of his beltless oversize pants that hang down so low that it is impossible for him to walk without bowing his knees out past his already impressive girth. Walking next to him is a tiny slip of a girl that only makes him look bigger by comparison. Maria is Juan Carlos' thirteen year old little sister who is also in the eighth grade. One day when we were talking alone, Juan Carlos shed a few tears when he confided to me that he is embarrassed to be in the same grade as his little sister. I slide my palm across his until out fingers link and curl around each other ending in a kind of shake – the latest preferred greeting for most of the Latino kids.
Behind him, impossibly taller still, but much slimmer and so dark skinned that his face shines midnight blue under the harsh fluorescent light, Treybon says to one of the two girls under his gangly arms, "That's my favorite teacher." Unlike Juan Carlos, Treybon's clothes are new and neat and well-tailored and he takes pride in looking good. I met Trey's mom when he was in my class so I know where his fashion sense comes from. Usually I don't take well to fur coats but she made it look good. She spent our entire twelve minutes together at parent teacher conference night telling me how Trey's dad is some semi-famous sports figure who takes good care of them though he divorced her many years ago. As she left she took both my hands, rubbed my forearms suggestively and gave me a leopard spotted card with her personal cell number that I should call "anytime, day or night.". As she at least mentioned Trey's name once during her 10 minutes, so I checked the box for "concerned parent" on the Parent Contact form we have to fill out. Trey stretches one arm out past one of the girls' shoulders and holds out his fist. I bump knuckles with him gently so as not to disturb the girl.
"Good morning Trey, girls," I say with an exaggerated politeness, bowing my head slightly. Despite his almost daily fights due to his complete lack of temper control, with his good looks and ever present bright smile, it's hard not to like Treybon and seeing him happy and carefree like this is almost enough to cut through the heaviness in my soul. Almost, but not quite and I'm sure my eyes are dead and unfocused again as I turn my head away from Trey and scan the crowd.
"Of course," I mutter sarcastically aloud as my feet start to move. Two doors down, something is up in front of the English teacher's doorway. She is absent today and her sub still hasn't arrived. I spot what looks like a small, square mylar balloon on the ground and adjust my pace. Just as Jesus' foot is coming down on it I bend and snatch up the stink bomb, leaving him to stomp on nothing but tile.
"You crazy Mr. E," says my former student Carlos with a big smile. "That thing gonna blow up in your hand."
Idon't smile back. "Oh well," I say with more calm than I feel, "that's life. Guess I might not smell too good." Carlos probably does not hear that last sentence as I am already through the double door to the staircase as I speak, moving quickly but steadily down the two flights of stairs to the back door. I spin as I hit the bar to open the heavy door with my butt, make a 180 and toss the stink bomb to the asphalt, then turn it into a 360 degree spin as I head back up the stairs and the door slams shut behind me.
As I looked back at my blog posts I noticed that I never finished posting chapter 1 of my one-day-to-be-published book. Ironic that it was about a year ago that I last posted a piece of it.
 Behind the fading whistling comes the staccato drum of alternating light and heavy, running footsteps. "First!" yells Damarcus, a skinny, light-skinned and light-hearted black kid who punctuates it with a joyous whack of his bony knuckles against his locker.
"You cheated," puffs Jose, a short, heavy Dominican kid who is a little too out of breath for a twelve year old who has just run up only one flight of stairs. Damarcus most likely did not have to cheat.
Without realizing I am doing it, I shift my stance a little, taking my weight back just enough to go from combat ready to merely alert. I know the routine so well by now I do most of it unconsciously, sometimes with my eyes closed. Day after day, one hundred and eighty times a year, things rarely vary from the predictable. This is a good thing as around here the unpredictable is hardly ever something warm and welcome, like the principal skipping down the hall in a pink party gown giving us all bonuses for our hard work. The next ones up are always the good kids and my head starts to nod. "Yes," I say softly but aloud, maybe to convince myself that it is true, "there are some good kids". I smile my first genuine smile of the day and make sure to make eye contact with the far too few kids that always help to make the day worthwhile as I sincerely say, "Good Morning".
The respite is short lived and I feel it like an unblocked punch in my gut as I hear the squeak of rubber on the tile floor. It is not the quick, high pitched normal squeak of sneakers on tile but somehow more like a keening wail that cuts through me making me wince. This auditory trick is accomplished by taking every step by slowly turning your whole foot in a wide arc across the floor, preferably while encased in new or wet rubber soled sneakers. I snap back to combat ready as a reflex, but the loud ones are never the violent ones. Even at the tender age of twelve the hardcore kids have already learned the value of silence.
I don't know why I am suddenly hyperventilating, deep breaths in through my nose and forced out quickly through my mouth, but I am. I try to control it physically by closing my mouth and forcing myself to breathe out slowly through my nose but that just makes it sound like a more nasally sigh. I am so frustrated by everything about this school that I can feel it making me ill. Twenty-five years ago when I first started, I felt like I was making a difference. Now I cannot justify what I do that way. It's as if everything about this place is against me. I hate that they are forcing me to get my children to pass meaningless tests instead of teaching them how to think. Through a supreme effort of will I barely control my urge to vomit at my own sense of inadequacy.
The truth is that I feel I am losing the battle. It's hard to watch it get worse every year and not be affected by it. I started teaching in 1989 in the middle of South Central L.A. In 1992 I was teaching middle school science at Chester Nimitz Jr. High. In what I still call the Rodney King riots, the pizza joint that delivered to my one room apartment, my bank teller machine, and the family-owned Mexican restaurant I loved were all burned down. When school reopened that Monday morning, May 4, some of my students offered me a car stereo saying they had more than they needed, which they actually followed with a heartfelt though misplaced in May, "Happy Hannukah!". The sad truth is that those kids were much better behaved in class, more respectful and thankful towards good teachers, and had more concerned parents than my current students.
And we don't have time to teach them. The walls seem to close in on me and I can't breathe as I do the math. This year we have to give the kids the new week long PARCC test, a pre and post test used to measure the children's growth and evaluate teachers and five separate one day state tests in addition to the minimum of two major assessment tests every marking period that is mandated to give the children their report card grades. That means that out of the 180 days that I will see these kids I have to spend 1/9 of our time administering tests. Even if we only spend two hours preparing the students for every one hour test, this is another 2/9 of our short time together. Add them up and we will spend at least 1/3 of our time, or a full 60 out of 180 days preparing for and administering tests.Help!
Finally breathing slow and steady again I look around and see that, while I was freaking out, the hallway has filled up. Where there were empty hallways what seemed a moment ago there was now an ironically preppy flag of moving blue, white and khaki. Since the implementation of our uniform policy two years ago, most of the kids now dress alike with khaki or dark blue pants and light blue or white polo shirts. That fact aside there is a plethora of uniqueness to be seen. The variation in hair alone is staggering. The boys run the gamut from almost bald fades to the tallest afros to long flowing locks either freefalling or pulled into ponytails. There are no natural blonds or redheads in our student population but all shades of brown and black are well represented by these boys. Thanks mostly to hair dye and ribbons, hair ties, and even rubber bands, the girls fly all the colors of the rainbow. Yellow, purple, red, blue and green show up as streaks or waves or even spots against a mostly darker palate of largely long flowing tresses. This plus the decidedly different anti-uniform of jeans and wild t shirts of the openly defiant kids makes for an eye catching spectacle.
The two girls who are closest to me both have simply dark brown hair, but they make up for the lack of color with their makeup. It is bold and thick and it strikes me as too dark, all blues and purples and long black lashes with extra black brows. A pair of seventh grade girls, they both have the same zombified blank seen-too-much-at-too-young-an-age stares. Their arms are linked defiantly together daring anyone to get in their way as they strut towards their lockers, swinging their hips like Lady Gaga on stage. As they pass they coo at me. "Hey Mr. E," they say in almost perfect unison.
I bow at the waist. "Good morning ladies," I say in what I hope is a chipper tone. Truth be told I am still shaking a my head a little wishing for the good old days teaching in the war zone that was South Central LA, but sometimes just putting on a mask of happiness leads to a change of mood, so I carry on.
I wore my tuxedo to school Tuesday, December 23rd. Instead of a bow tie I wore my black silk tie with math symbols boldly emblazoned in primary colors. My purple pocket square perfectly matched the purple plus sign on my tie. It was a special day.
The children looked at me with mixtures of delight and puzzlement as I greeted them with a booming, "Bom Dia!" at the door. I always greet them this way, but I tried to put a little extra boom in it to mark the occasion. 
I channel Mr. Roarke from Fantasy Island as I step to the front of the room, hold my arms out to the children, smile and say, "Smiles everyone. Welcome."
Yesterday the six cooperative groups did the math and figured out their scores after all 30 days of our present race. I admit to some degree of pride that five out of six groups correctly tallied their points up with no help from me. After we compared our answers they correctly concluded that no group in their class had a chance to win the six wrapped presents that still sat on the table in front of the room. I didn't get a lot of smiles.
I soldiered on, still smiling as I said, "No. You all have nothing to hang your heads about. I am proud of all you. You all did your best and we had a great eight weeks."
"When we come back from break we will begin a new points race so you can do better next time. Clean slate for everyone!" I hope I sound uplifting even though I am disappointed that they are still mostly not smiling.
"And earning a surprise individual prize is the student who achieved the highest marks on all assignments. Just edging out his brother Juan is Jose."
The two boys immediately start arguing over who had gotten the best marks. As I hand the puzzle over to Jose I say, "You two argue it out at home."
Jose thanks me as he takes the puzzle. Then he tilts his head sideways as if trying to figure out a math problem. He smiles and nods as he says, "No Mr. E, we're going to share it."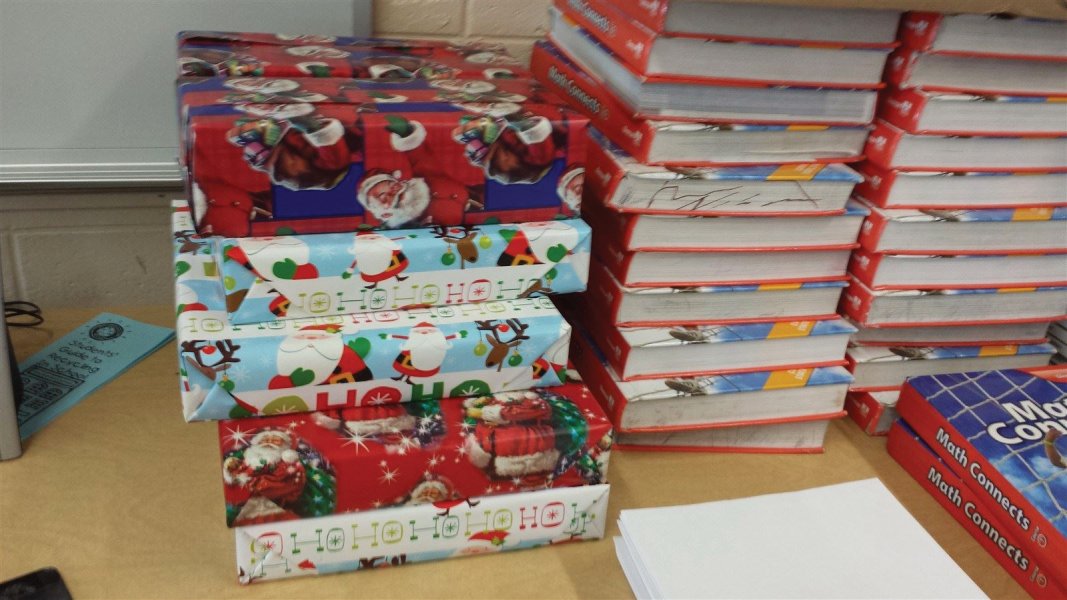 Now it's my turn to smile and nod as I hope that maybe I have taught them something besides math after all.
I am wearing my sportcoat as I address the class. This is unusual for me, but I feel it gives weight and formality to the speech. I finish thanking them for all their hard work to a slightly too loud round of applause. I silence them with a word, "But..." I let it trail off.
"We still have to do the math. On note paper everyone will list all their group's points and find the total as of right now. First group done gets 100 points, second group done gets 80, then 60, 40, 20, and the last group done gets 0. Go."
Five out of my six cooperative groups instantly flash into activity, quickly sending one member to record the scores from the poster in the back of the room and then discussing their attack of the problem. The sixth group only has five members but they are all much too young men to remind me of my great uncle Frank after a big Sunday supper. Tired and lethargic, they are all sitting slumped in their chairs. I sit in the empty spot, leaning back to emulate their posture. "Sup," I say with a slow nod.

Two of them get it right away and smile as they straighten up and get out a piece of paper. Looking at the other three in turn I continue in my warm, parent voice, "Guys. I know you have only gotten a few points but it doesn't matter."
Jesus mumbles into his hooded sweatshirt, "Right. It doesn't matter. We can't win."
"You wanna bet?" I ask. "If I can prove to you that you can win, will you do all the work?"
As one, the five members of group six nod at me. I keep talking as I grab the big bag of realistic looking fake pennies from my shelf. "Do you guys know these fake pennies cost two cents apiece? That's right, they paid $20 for this bag of one thousand pennies. Wouldn't it have been cheaper for them just to use real pennines?"
By now I am seated back with group six and I am pulling out a big handful of those fake pennies. "OK. Let's say you win week one. Here are your points." I give Jesus one penny and continue, "You win week two as well and remember I told you that the points double every week." I hand Jesus two more pennies.
"You rock," I say with a smile. "You guys win weeks three and four too!" I make a show of counting out two piles of pennies. "Week three doubles up to four pennies and week four gives you eight more pennies." I hand over the twelve pennies and continue. "So in week five the winner gets how many pennies?"
All five guys at the table are leaning forward with their hoods down and are looking at me. Angel speaks first. "Eight times two is sixteen," he says flashing much whiter teeth than my own. "Hand 'em over." Angel reaches out his hand expectantly.
I count out sixteen more and slide them into his hand faking reluctance. "Just to make a point, let's also say you win the next two weeks so only the final week remains. How many more pennies do you get?"
Again Angel is first to answer. "32 and then 64," he says nodding his head in certainty. "You seriously gonna give me all that?"
I am already counting and placing all 96 of the pennies into the center of their group pod of desks so they can all grab some. "Count them up and tell me how many you have now?"
This takes them too long as their social skills also lag behind the rest of my groups and they argue over who will count them, but they finally come up with 127. I know I have them as I pause to look into their confident faces and say, "How much do I win when I win week eight?"
Angel frowns as he says, "One hundred and twenty eight?"
"Yes," I say patting him on the back. "Good math skills. So, which is more, 127 or 128?" I smile as they realize my point, then I slowly get up and check the next group as group six gets to work.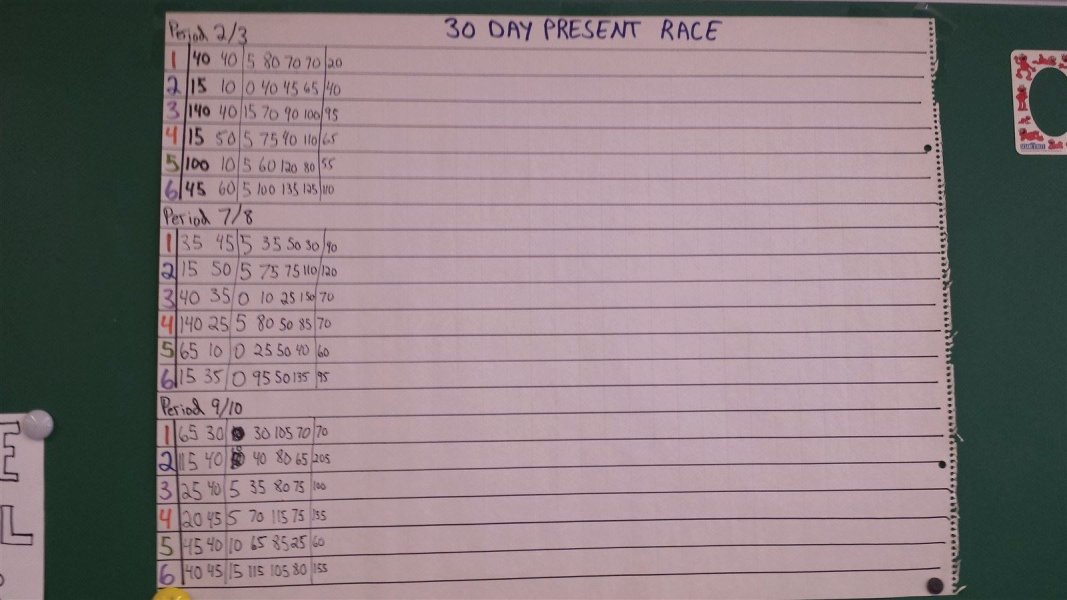 My basic point system works in multiples of 5, making tallying point totals easy even for the mathematically challenged. Small tasks and demonstrating positive behavior are worth the minimum 5 points. Bonus tasks and something you want to recognize as especially good are worth 10 points. Group completion of large assignments and homework starts at 25 points and goes up from there, but nothing is ever worth more than 100 points and there should be very few 100s. At the end of every class, the group points are tallied and the totals written in sharpie on the scoreboard in the back of the room.
There are two ways to earn points. The first way is by completing assignments and the second way is by demonstrating positive cooperative behavior and good social skills. Both are equally important.
Little things like walking into class on time and immediately beginning to work on the Do Now assignment on the board will earn a group five points. I usually find at least one group doing whose members are all getting the Do Now done and I loudly say, "Group two is getting five points because ALL of them are working nicely. Good job group two."
Most assignment related points are only earned by all members of a group completing the assignment. A good example of this is the next thing I usually do, collect homework. I have every group put their homework into a pile in the middle of their desks. As I collect them I check only for completeness and that all group members have done the work. Later on, when I grade the homework, I check for correctness. If all group members have the assignment complete their group gets 25 points. If even one is missing or incomplete, their group gets nothing. To assure individual accountability, classwork assignments are usually accompanied by my choosing one group member "at random" to explain how to solve a similar problem. The group sinks or swims based on every member's performance. This all or nothing policy ties the group mates fates together and allows me to tap into the power of positive peer pressure.
This brings us to the second way the groups can earn points. The number one rule in my classroom is "Always Be Positive". Whenever I catch any student using positive encouragement I reward that group with five points. This is not about Johnny telling Jimmy that he will smack him if he doesn't do his work. This is about Johnny asking Jimmy if he can help him complete the next assignment. And this is about Johnny explaining the current work in a nice and positive manner. By focusing on rewarding positivity you get your message across loudly and clearly. This is the behavior I expect and I will not accept anything less.
Grace Murray Hopper once said, "You manage things, you lead people." Your goal is to get your class to exert positive peer pressure on each other. To do this you must lead by example. Resist all urges to comment on the negative and instead find ways to praise the positive and reward positive behavior with points. If everyone except one child walks in late to class, do not yell at the majority. Instead, praise and reward the one student who arrived on time.I only give 5 or 10 points for each instance of positive behavior, but I give them loudly.
Always be mindful of your phrasing. As an example, I sometimes give an assignment that has the children doing 10 math problems with a time limit of 20 minutes. I tell them that every group in which everyone correctly answers all questions before the time is up will receive 30 points. Then, when a group finishes, I give them those points and tell them that they have earned a bonus. The "bonus" is that they get to do an extra set of 3-5 problems for 10 more points. By phrasing it this way I am able to get the group to finish their work ahead of schedule for a reward of more problems. Sometimes I secretly smile at how well this works.
This last example also illustrates how I deal with success. Too often we are prepared only to deal with failure. A math teacher will plan to review the correct way to solve the problems if the students cannot yet do so on their own, but give little thought to what to do if some students succeed in their task. I always have a "bonus" task ready for those who are successful. I hardly ever give more than ten points for these bonus tasks, but the high performing groups that finish early eat them up like candy. I love that I am also able to get some of my students to think more deeply about their math by varying my bonus problems.
To be continued
/