Shopping Cart
Your Cart is Empty
There was an error with PayPal
Click here to try again
Thank you for your business!
You should be receiving an order confirmation from Paypal shortly.
Exit Shopping Cart
Social Education for Brain Health
It all came together for me with a new editor. It's funny how I thought that when I finished the book I would be finished with the book. There is always more to do.
I was hoping to be in print by the Asbury Park Cat Convention in April. There's a reason that the tale of a teacher who survives a school shooting and ends up with PTSD would sell well at this cat show. It's the same reason that the book is called, Sideways Boy. Growing up as a pet lover I always thought there were plenty of books showing how great dogs are. This book shows how great cats are, especially my deformed little Sideways Boy.
The tale of how man and cat, both broken by life, help each other heal is a beautiful one that will draw you in. It's amazing when two problems solve each other. 
Thank you to all who read for me. I appreciate you all and all your comments. Happy Holidays to all.
2016 marks our 5th year in business. Over this time we have helped thousands of people learn how to keep their brains healthy. We are deeply honored to be a part of this revolution in the way we think about our mental health.
In 2015 we spent over 1000 hours doing volunteer work both by ourselves and in partnership with many non-profits. Our work with The Dear Wise Elders Foundation has helped connect older adults with schoolchildren for the enrichment of both groups. This collaboration led to our entry in this year's XQSuperschool challenge.
We have also formed local partnerships with several businesses that has led to our very successful Brain Happy Hours. These "parties for your brain" have allowed many independent older adults to participate in the Purplearn experience. We are very happy to announce that one of these Brain Happy Hours has led to an engagement.
A wise man once said that true happiness lies in finding what you love to do and then doing it. The smiles all through our new Eatontown, NJ office illuminate the truth in this. We love helping further the case for social education.
2016
As we rush headlong into 2016 we at Purplearn and The Dear Wise Elders Foundation would like to pause and give thanks. A very big and grateful thank you to everyone whose lives we touched in 2015. We love you all.
Perhaps the biggest thanks of all go out to the children and especially those children at the New Brunswick Middle School. Some children of immigrants, with nothing themselves, were not stingy with their love and warmth in their cards and letters. To all those kids who gave the beautiful gift of a smile to our older adults, you really are the best.
We'd love to post all the cards, every letter, but that project waits for another day. We at Purplearn are focused on our entry, The Golbal Community Academy, into the xqsuperschool project to change high school. Our proposed school will be built on the foundation of social emotional learning we have been using with great success. We are still seeking partnerships with companies and artists to help fulfill our promise. Come change the world with us and get involved.
We have also enjoyed the progress we have seen in our work with groups of developmentally and or cognitively impaired people and also stroke survivors. The brain continues to fascinate and enchant us as we work to understand even a small part of it. We are grateful to have helped make a difference.
I burst through the double doors back at the top of the stairs. I mean to stop and open the door for what will hopefully be the arrival of a merely late, not absent sub next door to me, but I see a large, dark head in front of the classroom. His stylish goatee, almost regal bearing, and dark blue uniform mark him as a man among the boys even before I can see the actual word, security, stenciled across his back. Ahead of him a group of tightly packed minor trouble makers whisper to each other and walk quickly past me to get out of his line of sight. As if to erase all trace of doubt about who is in charge, he booms out in a deep, manly voice that cuts right through the hallway noise. "Let's go," he says. "Keep moving. Put your things in your lockers and get to class. Put away those hoodies and get going. The bell's about to ring."
His name is Tydell and all the kids have shortened Mr. Tydell into Mr. T. Even with the fairly recent reboot movie, they and he too are all too young to connect that nickname to a certain gold chain wearing, mohawk sporting muscleman, but I chuckle at the irony. "Good morning Mr. E," he says and shakes my hand in a traditional handshake.
I grasp his hand warmly and echo back, "Good morning Mr. T."
Keys jangle, the door opens, and kids are entering the still sub-less English teacher's room as Mr. T is already in fluid motion. The moment he turns the corner, as if they were hiding behind the wall waiting for him to leave, a new group of miscreants comes around the other corner pushing a frail looking sixth grader in front of them. I fold my arms across my chest, make my face impassive, and take one, then two, then three slow measured steps towards them. One of the pack is a wild card, a new transfer student from the DR – we get a lot of these. He is tall with a wild mane of black shiny hair swept up into a fauxhawk making him seem even taller. He sneers as he steps forward in my direction, but I hear a whispered murmur from a familiar face and the words, "karate teacher" and they turn back the way they came leaving the skinny kid they were taunting to me. I sigh at the reference as Karate is one of the few martial arts I have never studied, but I since am built more like Mr. Miyagi from the original Karate Kid than Bruce Lee, I accept the honorific. Besides, it gets the gang moving away from me and my new little friend.
The kid is a sixth grader, a good student who is not in one of my math classes so I don't know his name. He is visibly shaking and making groaning noises that he doesn't seem to be aware of. I put my hand lightly on the kids' shoulder. "Are you ok?" I ask, concerned.
"No," he says with equal parts relief and anger.
I find it in me to laugh gently and pat his shoulder gingerly, removing my hand quickly as he glares at me. "I mean are you hurt? Do you need to go to the nurse?"
Getting it now, he rewards me with a half-smile. "No," he repeats, "I'm fine." But there is something in his eyes that makes me keep talking to him.
"You don't have to take that you know," I say. "Nobody should have to come to school scared. We have rules against bullying. You should talk to one of the guidance counselors. I could come with you if you like."
"No," he says again but he seems to be thinking about it. He starts moving his head back and forth and I can almost hear his inner dialogue as he weighs his desire for revenge against the real or implied threat of being branded a snitch against whatever pseudo-mini-gang those boys belong to. His mouth starts working and then stops and I know what he's going to say before he says it. "No," he says with finality. Then, more warmly, "Thank you Mr. E." I may not know him but it seems he knows me. The bell rings and he hurries off to class, not wanting to be marked tardy.
"That's the bell," I say in my loud, strict teacher voice to the far too many kids who could care less about being marked tardy that are still in the hall. "Go to class." I stop in front of the dark grey door to my homeroom and an image of a huge maw, like a whale comes unbidden to my brain. This place is eating at my soul. I can't even count how many of my former colleagues it has already taken from me and I don't know how long I can hold it off. The door seems cold and forbidding before me like it will swallow me up if I enter, and I will lose myself forever in the deepening quagmire that is our school. It is overwhelming me with so many state tests to grade and prepare for, ever changing lesson plan formats, 504s, IEPs, and more and more until it feels like an ocean of quicksand from which there is no escape.
As I swallow my feelings and step into my room I scan the faces for a trace of a smile to help lift me up, but I do not find it. I feel lost and alone, but I try to mean it as I loudly give voice to what's left of my optimism, say "Good morning" to my homeroom class, and steel myself for the rest of the day.
The variations continue with the kids' footwear. Boys whose shirts look like they haven't been washed in a week sport brand new $300 Jordans, or one of dozens of other sneakers, often in ludicrous color combinations. The girls are mostly wearing brand name boots like Uggs or Frye or some knock off designer thigh high monstrosities. The style for socks this year seems to be that, if they can be seen, they mustn't match any other article of the wearer's clothing. I must confess that even I am caught up in the wild sock trend and I am wearing a pair of brightly colored, tribally patterned knee highs under my stretchy khaki slacks.
A moving mountain of a boy holds out his hand to me as he passes. Almost sixteen years old in the eighth grade, Juan Carlos is a full head taller than me and easily as broad. The thick, still growing muscles of his upper body bulge from beneath an old blue polo shirt at least two sizes too small for him. The bottom of his shirt flaps about six inches from the top of his beltless oversize pants that hang down so low that it is impossible for him to walk without bowing his knees out past his already impressive girth. Walking next to him is a tiny slip of a girl that only makes him look bigger by comparison. Maria is Juan Carlos' thirteen year old little sister who is also in the eighth grade. One day when we were talking alone, Juan Carlos shed a few tears when he confided to me that he is embarrassed to be in the same grade as his little sister. I slide my palm across his until out fingers link and curl around each other ending in a kind of shake – the latest preferred greeting for most of the Latino kids.
Behind him, impossibly taller still, but much slimmer and so dark skinned that his face shines midnight blue under the harsh fluorescent light, Treybon says to one of the two girls under his gangly arms, "That's my favorite teacher." Unlike Juan Carlos, Treybon's clothes are new and neat and well-tailored and he takes pride in looking good. I met Trey's mom when he was in my class so I know where his fashion sense comes from. Usually I don't take well to fur coats but she made it look good. She spent our entire twelve minutes together at parent teacher conference night telling me how Trey's dad is some semi-famous sports figure who takes good care of them though he divorced her many years ago. As she left she took both my hands, rubbed my forearms suggestively and gave me a leopard spotted card with her personal cell number that I should call "anytime, day or night.". As she at least mentioned Trey's name once during her 10 minutes, so I checked the box for "concerned parent" on the Parent Contact form we have to fill out. Trey stretches one arm out past one of the girls' shoulders and holds out his fist. I bump knuckles with him gently so as not to disturb the girl.
"Good morning Trey, girls," I say with an exaggerated politeness, bowing my head slightly. Despite his almost daily fights due to his complete lack of temper control, with his good looks and ever present bright smile, it's hard not to like Treybon and seeing him happy and carefree like this is almost enough to cut through the heaviness in my soul. Almost, but not quite and I'm sure my eyes are dead and unfocused again as I turn my head away from Trey and scan the crowd.
"Of course," I mutter sarcastically aloud as my feet start to move. Two doors down, something is up in front of the English teacher's doorway. She is absent today and her sub still hasn't arrived. I spot what looks like a small, square mylar balloon on the ground and adjust my pace. Just as Jesus' foot is coming down on it I bend and snatch up the stink bomb, leaving him to stomp on nothing but tile.
"You crazy Mr. E," says my former student Carlos with a big smile. "That thing gonna blow up in your hand."
Idon't smile back. "Oh well," I say with more calm than I feel, "that's life. Guess I might not smell too good." Carlos probably does not hear that last sentence as I am already through the double door to the staircase as I speak, moving quickly but steadily down the two flights of stairs to the back door. I spin as I hit the bar to open the heavy door with my butt, make a 180 and toss the stink bomb to the asphalt, then turn it into a 360 degree spin as I head back up the stairs and the door slams shut behind me.
I wore my tuxedo to school Tuesday, December 23rd. Instead of a bow tie I wore my black silk tie with math symbols boldly emblazoned in primary colors. My purple pocket square perfectly matched the purple plus sign on my tie. It was a special day.
The children looked at me with mixtures of delight and puzzlement as I greeted them with a booming, "Bom Dia!" at the door. I always greet them this way, but I tried to put a little extra boom in it to mark the occasion. 
I channel Mr. Roarke from Fantasy Island as I step to the front of the room, hold my arms out to the children, smile and say, "Smiles everyone. Welcome."
Yesterday the six cooperative groups did the math and figured out their scores after all 30 days of our present race. I admit to some degree of pride that five out of six groups correctly tallied their points up with no help from me. After we compared our answers they correctly concluded that no group in their class had a chance to win the six wrapped presents that still sat on the table in front of the room. I didn't get a lot of smiles.
I soldiered on, still smiling as I said, "No. You all have nothing to hang your heads about. I am proud of all you. You all did your best and we had a great eight weeks."
"When we come back from break we will begin a new points race so you can do better next time. Clean slate for everyone!" I hope I sound uplifting even though I am disappointed that they are still mostly not smiling.
"And earning a surprise individual prize is the student who achieved the highest marks on all assignments. Just edging out his brother Juan is Jose."
The two boys immediately start arguing over who had gotten the best marks. As I hand the puzzle over to Jose I say, "You two argue it out at home."
Jose thanks me as he takes the puzzle. Then he tilts his head sideways as if trying to figure out a math problem. He smiles and nods as he says, "No Mr. E, we're going to share it."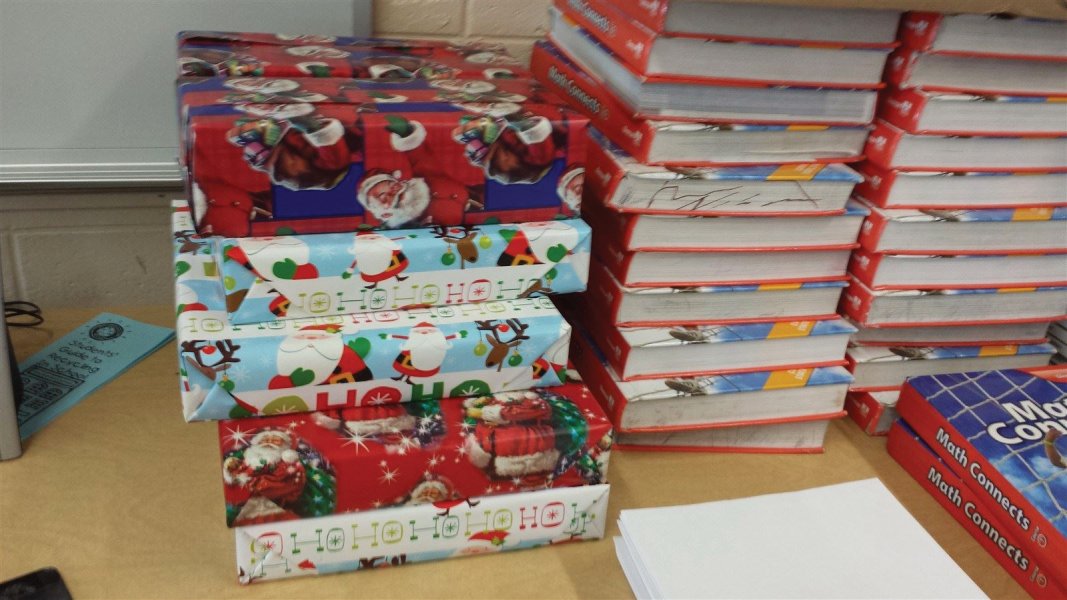 Now it's my turn to smile and nod as I hope that maybe I have taught them something besides math after all.

Early yesterday morning I had to wear my long woolen overcoat over my dark suit with purple shirt and tie. The downstairs party room where we meet opens to the outside when it is warmer and the chill was seeping through the large closed windows. My friends, the original wise elders, were not happy with the current temperature and everywhere was heard loud grumbling coming from under blankets and sweaters.




I had a fresh batch of letters and short replies from the schoolchildren to read to them so I just began over the racket. "Thank you Wise Elders," I began in my loud teacher's voice. "I learned that it is better to give than to receive. They should make a t shirt with that on it."




This brought smiles and a few laughs from the group. Dorothy is quick and loud and she started. "Annie," she booms pointing at the always well dressed woman next to her, "They think you invented that."




Annie says with such a straight face that it is hard to tell if she is really serious when she replies, "I did."




I read more letters and we had a lovely rap session together. Even the usually quiet Molly, a slight woman with Alzheimer's who is quite the artist at 91, said a few things. We reflected about a lot of things and we had a great time doing it together.




My favorite moment came when I read one boy's short note. "Do you know any war stories? My Grandpa used to tell me war stories. What is war?"




Carl is 102 years old. He's still over six feet tall and a veteran of more than a few wars. I was eager to hear what he had to say about this, when Dorothy spoke up first. She said it quietly and spoke matter-of-factly like it was obvious. "War is what happens when people forget how to love."




Carl covered his sudden gasp with a loud clearing of his throat and added, "I couldn't have said it better myself."




     




My class had run out of steam. Once, in early August, there had been four full tables of more than six people each. I needed a valet to help park the walkers that had to be lined up at the door. When we compared our answers we often had people trying to talk over each other. Today we sat sparsely spaced around two tables. I addressed the ten older adults. Doing my best not to show my exasperation, I asked, "No stories? Anyone? ".




It wasn't their fault and it wasn't my fault. Well, actually it was my fault. I knew a one hour class once a week wasn't enough time to really work on an extensive memory help program but I was stubborn. Purplearn was founded on the principle that learning should be fun and I was serving up big doses of hard work instead. Still I was inwardly wallowing in self pride. A sin I know, but a few of my elder students were showing great memory and engagement progress. I let down my logic teacher and put the needs of the few ahead of the needs of the many and I knew it would cost me my class.




But I found something unexpected in those few that warm, September day. We sat together and I told them how I felt about my schoolchildren's general lack of respect. And they all started to talk, everyone all at once talking about respect. I knew what I had to do as I reached for my bag. My small group of wise elders had something to say and I had the art supplies to make them heard.




Everybody did something. Some folks wanted to draw and some folks wanted to write and some folks helped each other do both. Although I also had a few magazines and some folks cut out pictures, we all liked what we had made at the end so we left it as is. I went home with a new poster in my portfolio that was bound for the back wall of my classroom that I had set aside for SEL.




The kids really loved the poster. We ended up having a great rap session about our grandparents that day. Some of the kids were able to talk with their own grandparents and some of the kids had left them behind in other countries. The only thing that was the same was the wistful smiles on the faces of every kid who spoke. They had all connected on an emotional level and by the week's end almost everyone decided to write a letter thanking my wise elders. I wrote on the whiteboard in front of my room in big, bold print, DEAR WISE ELDERS.







The letters were all kinds of bad examples of grammar, spelling, and mixing languages but they were all written from the heart. I had the kids sign them just the way the elders had, using only initials and age. Then I took a high resolution photo of the poster that I printed out on my color laser and put the letters around it making a poster for my wise elders to keep. This first one we made still sits on an easel in a place of honor near the front hallway, by the art room.




We just finished our Christmas poster yesterday. I never want to get preachy with my elder students but I did manage to get more Happy Holidays onto the poster than Merry Christmases. Almost half of the wise elders are Jewish too but they all see the Christmas tree as the main symbol of the season. Growing up in my Jewish household we never felt our tree made us less Jewish but I still remember my grandfather's disapproving stares so I am a little surprised by that. I didn't even want to get into Kwanza though, much less any other holidays.




This time after it was all done and the final pictures and words were snug in their tape, I started a final discussion with my wise elders. I told them how the theme for this month in my school is giving back. We all decided that was a great theme for the holidays so we picked out a few spots where we could write that on the poster. The photos show the evolution of the finished and refinished poster.




I plan on expanding the response group at school to include my math classes. The students have been commenting on the posters and marveling at the ages of some of the authors. I will have them write a combination letter talking about how they feel and also explaining what a coordinate plane is. I will put some of the students' best visual models of the coordinate plane around the letters and make a nice reply poster for my wise elders.




The thing that strikes me most about the dear wise elder project is the symbiosis. Both groups benefit from giving to the other. My wise elders feel respected and useful and my children feel respected and useful as well. Both sides feel good and want to continue. We definitely have started something here. A few of my fellow teachers have expressed interest in expanding the program so we'll see where this goes.




Join the conversation at #dearwiseelders on Twitter or email me at

[email protected]

or call Purplearn at 908-216-8071.

0

/