Shopping Cart
Your Cart is Empty
There was an error with PayPal
Click here to try again
Thank you for your business!
You should be receiving an order confirmation from Paypal shortly.
Exit Shopping Cart
Social Education for Brain Health
| | |
| --- | --- |
| Posted on November 22, 2014 at 2:38 PM | |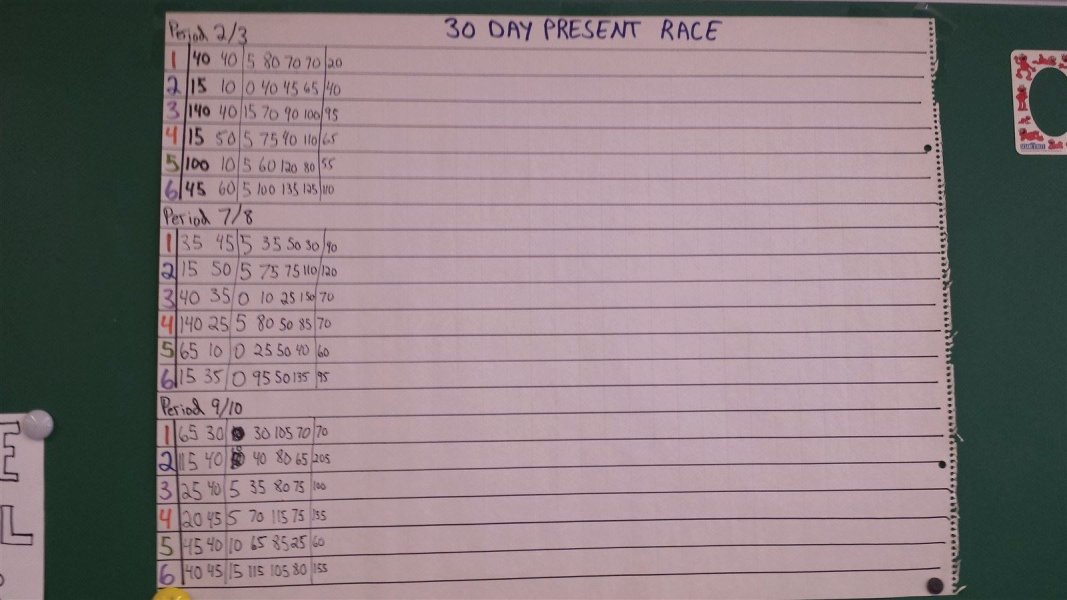 My basic point system works in multiples of 5, making tallying point totals easy even for the mathematically challenged. Small tasks and demonstrating positive behavior are worth the minimum 5 points. Bonus tasks and something you want to recognize as especially good are worth 10 points. Group completion of large assignments and homework starts at 25 points and goes up from there, but nothing is ever worth more than 100 points and there should be very few 100s. At the end of every class, the group points are tallied and the totals written in sharpie on the scoreboard in the back of the room.
There are two ways to earn points. The first way is by completing assignments and the second way is by demonstrating positive cooperative behavior and good social skills. Both are equally important.
Little things like walking into class on time and immediately beginning to work on the Do Now assignment on the board will earn a group five points. I usually find at least one group doing whose members are all getting the Do Now done and I loudly say, "Group two is getting five points because ALL of them are working nicely. Good job group two."
Most assignment related points are only earned by all members of a group completing the assignment. A good example of this is the next thing I usually do, collect homework. I have every group put their homework into a pile in the middle of their desks. As I collect them I check only for completeness and that all group members have done the work. Later on, when I grade the homework, I check for correctness. If all group members have the assignment complete their group gets 25 points. If even one is missing or incomplete, their group gets nothing. To assure individual accountability, classwork assignments are usually accompanied by my choosing one group member "at random" to explain how to solve a similar problem. The group sinks or swims based on every member's performance. This all or nothing policy ties the group mates fates together and allows me to tap into the power of positive peer pressure.
This brings us to the second way the groups can earn points. The number one rule in my classroom is "Always Be Positive". Whenever I catch any student using positive encouragement I reward that group with five points. This is not about Johnny telling Jimmy that he will smack him if he doesn't do his work. This is about Johnny asking Jimmy if he can help him complete the next assignment. And this is about Johnny explaining the current work in a nice and positive manner. By focusing on rewarding positivity you get your message across loudly and clearly. This is the behavior I expect and I will not accept anything less.
Grace Murray Hopper once said, "You manage things, you lead people." Your goal is to get your class to exert positive peer pressure on each other. To do this you must lead by example. Resist all urges to comment on the negative and instead find ways to praise the positive and reward positive behavior with points. If everyone except one child walks in late to class, do not yell at the majority. Instead, praise and reward the one student who arrived on time.I only give 5 or 10 points for each instance of positive behavior, but I give them loudly.
Always be mindful of your phrasing. As an example, I sometimes give an assignment that has the children doing 10 math problems with a time limit of 20 minutes. I tell them that every group in which everyone correctly answers all questions before the time is up will receive 30 points. Then, when a group finishes, I give them those points and tell them that they have earned a bonus. The "bonus" is that they get to do an extra set of 3-5 problems for 10 more points. By phrasing it this way I am able to get the group to finish their work ahead of schedule for a reward of more problems. Sometimes I secretly smile at how well this works.
This last example also illustrates how I deal with success. Too often we are prepared only to deal with failure. A math teacher will plan to review the correct way to solve the problems if the students cannot yet do so on their own, but give little thought to what to do if some students succeed in their task. I always have a "bonus" task ready for those who are successful. I hardly ever give more than ten points for these bonus tasks, but the high performing groups that finish early eat them up like candy. I love that I am also able to get some of my students to think more deeply about their math by varying my bonus problems.
To be continued
Categories: Book, Change, Classroom, Cooperative learning, Education, Purplearn, Life Skills, Motivation, Social Education, Teachers
/